World Day for Safety and Health at Work – 28 April 2023
Today is the World Day for Safety and Health at Work, with this year's theme being "A Fundamental Right". The International Labour Organization (ILO) is urging governments, employers, and workers to prioritize safety and health in the workplace, recognizing it as a fundamental right for all workers.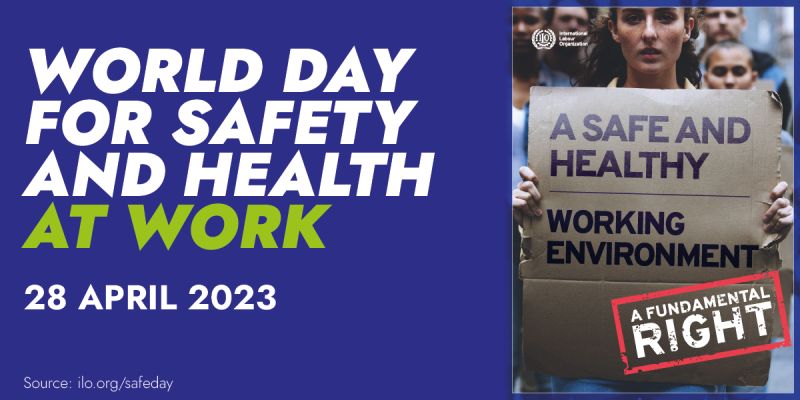 At its 110th Session in June 2022, the International Labour Conference decided to amend paragraph 2 of the ILO Declaration on Fundamental Principles and Rights at Work (1998) to include "a safe and healthy working environment" as a fundamental principle and right at work.
According to the ILO, there are approximately 2.3 million work-related deaths per year*1, with an additional 374 million non-fatal work-related injuries and illnesses. These statistics underscore the importance of promoting safe and healthy working conditions globally.
The COVID-19 pandemic has further emphasized the importance of occupational safety and health. The pandemic has led to new and increased workplace risks, including exposure to the virus, mental health challenges, and ergonomic issues related to remote work.
Delivering a Safe working day
Together with the ILO, we encourage organizations to take a holistic approach to workplace safety, considering physical, mental, and social health.
The World Day for Safety and Health at Work is an opportunity to raise awareness about the importance of workplace safety and health and to promote action toward ensuring that all workers have the fundamental right to a safe and healthy workplace.
With over 85 years of expertise, Intersafe is your partner to enable a safe and healthy working environment.
How can Intersafe help improve safety at your workplace?
To face current and future crises, our PPE specialists support you every day in your strategies to strengthen occupational health and safety systems. Contact us to find out about all our compliant, sustainable, and innovative services & solutions to optimize your daily safety approach.
Source: International Labour Organization -World Day for Safety and Health at Work 2023
*1 ILO – 2003