SIOEN welcomes Intersafe Executive Team
The Intersafe Group Executive Team, led by CEO Yves Pétin, is constantly enhancing and expanding its knowledge and experience in the area of safety – not only in general terms but also in relation to its suppliers. On Thursday 17 October SIOEN extended a warm welcome to the Intersafe Executive Team at its head office in Ardooie, Belgium. In addition to the extensive showroom, this site also houses a major part of SIOEN's R&D activities, including 4 laboratories and key test equipment.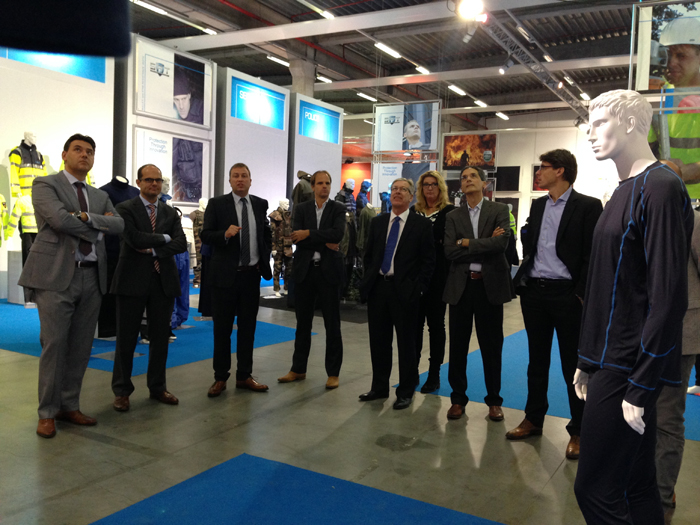 SIOEN Apparel is an innovative producer with a broad range of high-end, high-tech personal protective clothing and outdoor and leisurewear. Sioen is a world market leader in coated technical textiles. It has achieved this distinction through vertical integration, good customer relations and a robust entrepreneurial ethos. Besides its headquarters in Ardooie, SIOEN Apparel also has local sales departments in 10 different regions and its own production facilities in France, Indonesia, Romania, Tunisia and Ireland. In total there are 3,500 employees working to realise SIOEN's vision of "Protection through Innovation".
Research & Development
During an extensive tour provided by Bart Vervaecke (CEO Apparel Division) and Christiaan Dierckx (Sales Director Benelux) the Intersafe Executive Team received a detailed explanation of various tests for protective clothing. Both the showroom and the R&D centre were included in the visit. In this centre tests are performed to ensure that clothing satisfy the relevant standards.
Since 1988 Intersafe and SIOEN have been working together closely with a view to bringing innovations to market quickly and directly. Besides focusing on the top end of the market, they also jointly supply the market for protective clothing at various levels. Further information can be found at www.sioenapparel.com.