Intersafe has moved
From now on the new European head office Intersafe holding B.V. and the Dutch office Intersafe Groeneveld B.V. are located at Wilgenbos 2, 3311 JX in Dordrecht. Our postal code remains the same.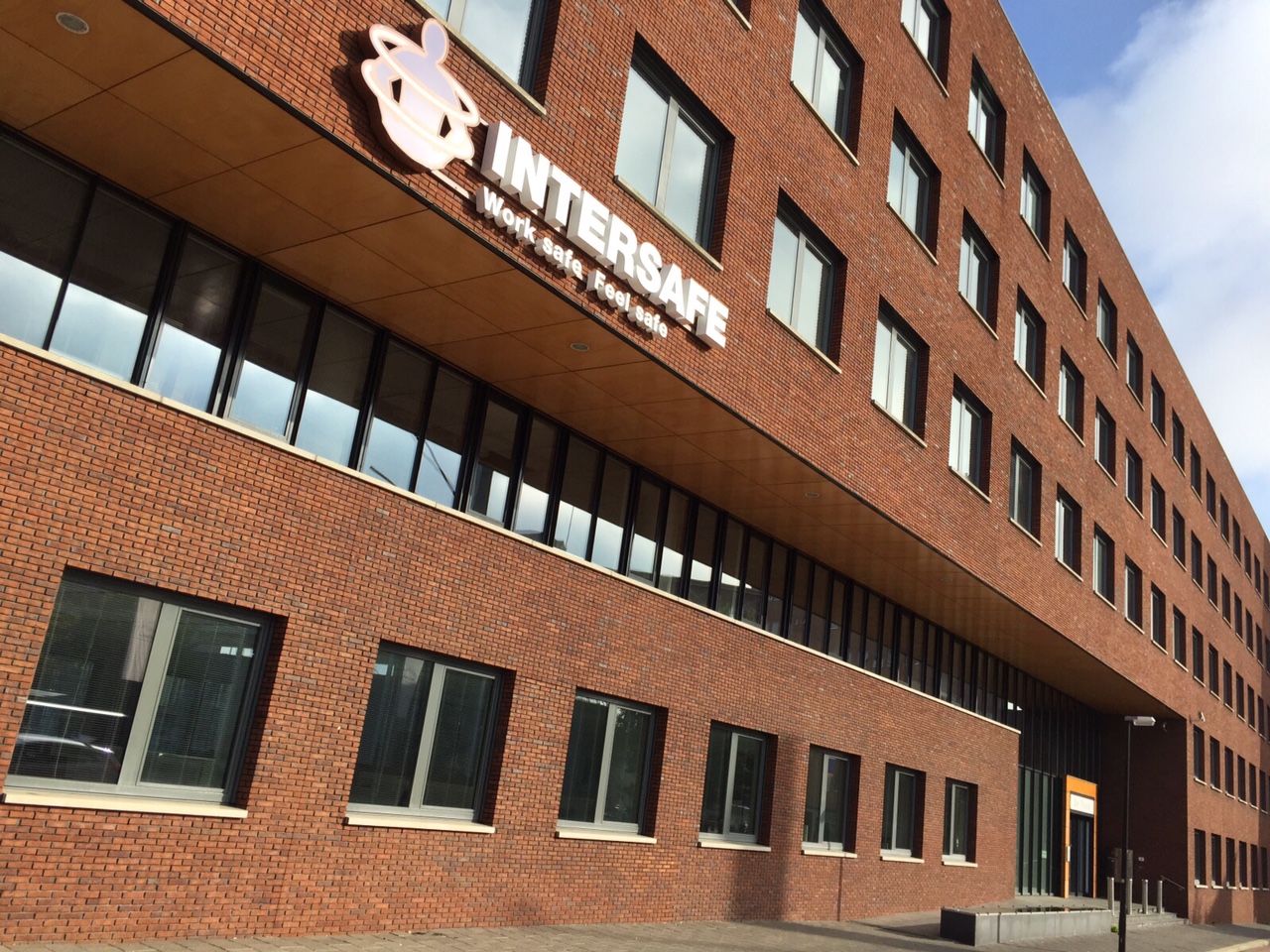 As from 28 August, we are based in a bright and energy-efficient building on the Wilgenbos in Dordrecht. Our building features an open office structure, a lot of glass, sustainable installations and modern training and presentation rooms for customers, relations and employees.
Things moved fast. Around half a year ago we drew up our requirements for a new home, and we are now working in the perfect space. The joining of forces among the parties involved has ensured that we can have a 'tailor made' location. The former office on the Kamerlingh Onnesweg in Dordrecht, where Intersafe had been located since 1972, no longer met quality standards. We were looking for a space which fit seamlessly our core values such as transparency, reliability, sustainability and, of course, safety. The office on the Wilgenbos scores high on all these points.
Highly accessible
The new European head office of Intersafe is at a dynamic intersection of road, water and rail and is thus highly accessible. Parking is available under and across from the site. City and regional buses stop in front of the door and the central station is at walking distance. Many employees come by bike, as the location, near the historic centre of Dordrecht, lends itself ideally to this mode of transport. The option in favour of sustainability also finds expression in the building's fittings. Natural materials and energy-efficient lighting and climate control installations set the tone for the building. The open layout and frequent use of glass take care of an attractive and bright work environment.
Efficient communication
The office structure chosen has yet another important advantage: it is much easier to talk to each other in an open, multifunctional space, and that promotes efficiency. For formal consultation or work requiring concentration, there are various meeting rooms. A work environment should inspire, we think, and so we have set up a Work café where people can meet. Brainstorming or chatting is also possible in the outside space, with a view of the Old Maas. Innovation is a shared process, and the new location gives plenty of space for it.
Future oriented
The majority of Intersafe employees, 124 in total, are now working at the Wilgenbos. The new head office is an excellent departure point for the future, certainly in light of our ambitions for corporate social responsibility. All modern digital resources are present, printing is kept to a minimum and work stations are designed in accordance with the law and regulations on safety and working conditions. Employees, customers and relations can make use of well-equipped training and presentation spaces and a showroom. The town of Dordrecht has asked Intersafe to think together with them about further improvements to the infrastructure in the head office's environs. From the point of view of safety, we are of course very happy about this.
Contact
If you have any questions left, please don't hesitate to contact us.