Intersafe Executive Team members in 'TenCate City'
The relation between TenCate Protective Fabrics and Intersafe is not directly a customer-supplier one, but still, an intensive cooperation together with a tailor leads to value creation for the customer. The Contractor-line, a special selection of workwear for the Construction industry, made of flame retardant fabric TenCate Tecapro® – BG 9500 is a successful result of it.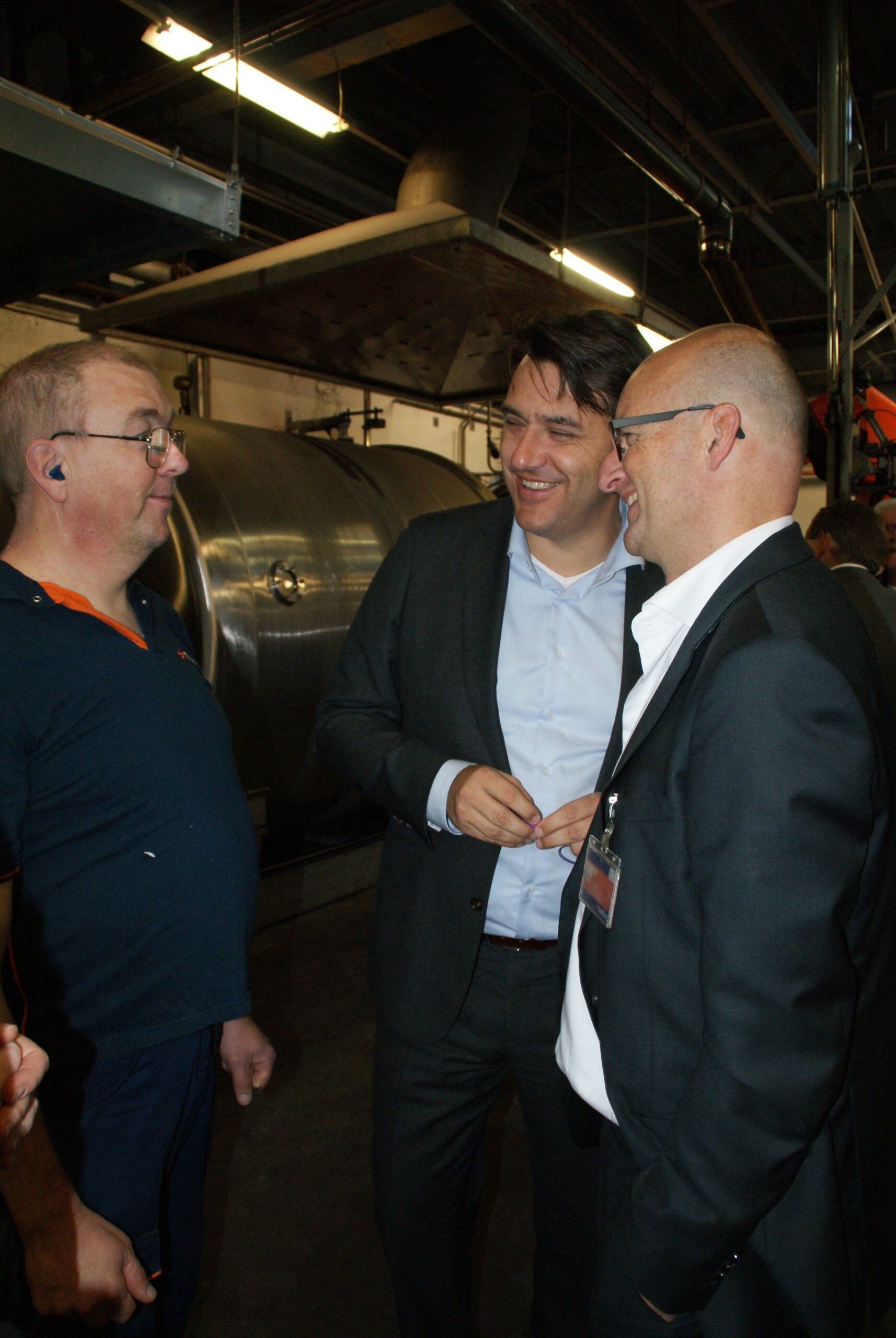 With Leadership as corporate Value Intersafe and TenCate have a common mission to start with. Where TenCate strives for leadership in growing market niches for specialist, functional materials, Intersafe listens to and understands the customer to provide (in this way in cooperation) the best proven customer unique solutions. They both aim for protecting people at home and at work.
Thursday November the 13th, TenCate organized a detailed tour through 'TenCate City' in Nijverdal.
80 years ago the company TenCate employed over the 10.000 people. Nowadays automation decreased this to approximately 350 specialists within the TenCate Protective Fabrics group.
Everything Ten Cate does comes back from textile.
Complicated and specific process of textile
The tour starts at the factory where the raw material is brought in, goes to the spinning and weaving mill with 63 weaving machines and ends in the laboratory where all textile is tested on several characteristics and specifications. During this process also the employees of TenCate are exposed to several hazards. Therefor they all have received new safety workwear. During their tour, Intersafe CEO Yves Pétin and General Manager Netherlands Roger van Meer, discuss the usage of personal hearing protection with a TenCate employee in the factory (see photo).
Because the factory is noisy but not continuously, employees are obliged to wear hearing protection, but are allowed to choose disposable earplugs or personal otoplastics (custom molded hearing protection). An interesting choice according to Yves and Roger, who both explain the importance of him feeling safe using his ppe. He feels most comfortable in his new workwear and his own hearing protection, which makes him feel safe while working.
Do you want to discuss safety at work with the Intersafe Executive Team?
By the strong cooperation, TenCate and Intersafe are able to work efficiently and innovatively. They share their experiences and learn from each other. This way of working will keep on improving safety and welfare at work and the safety culture in both companies.
Are you also interested in discussing your safety and welfare at work of your employees with Intersafe? Please invite the Intersafe Executive Team to your site by contacting us.