How Intersafe is dealing with the corona measures in-house
A few days before Prime Minister Mark Rutte addressed the Netherlands on the matter of the coronavirus, the management of Intersafe was already hard at work planning on how to deal with the impending crisis. With more than 250 employees in six locations in three countries (the Netherlands, Belgium and France) they had their work cut out. By reacting quickly, communicating clearly and, above all, taking everyone seriously, the company switched to working under 'The New Normal' within two months.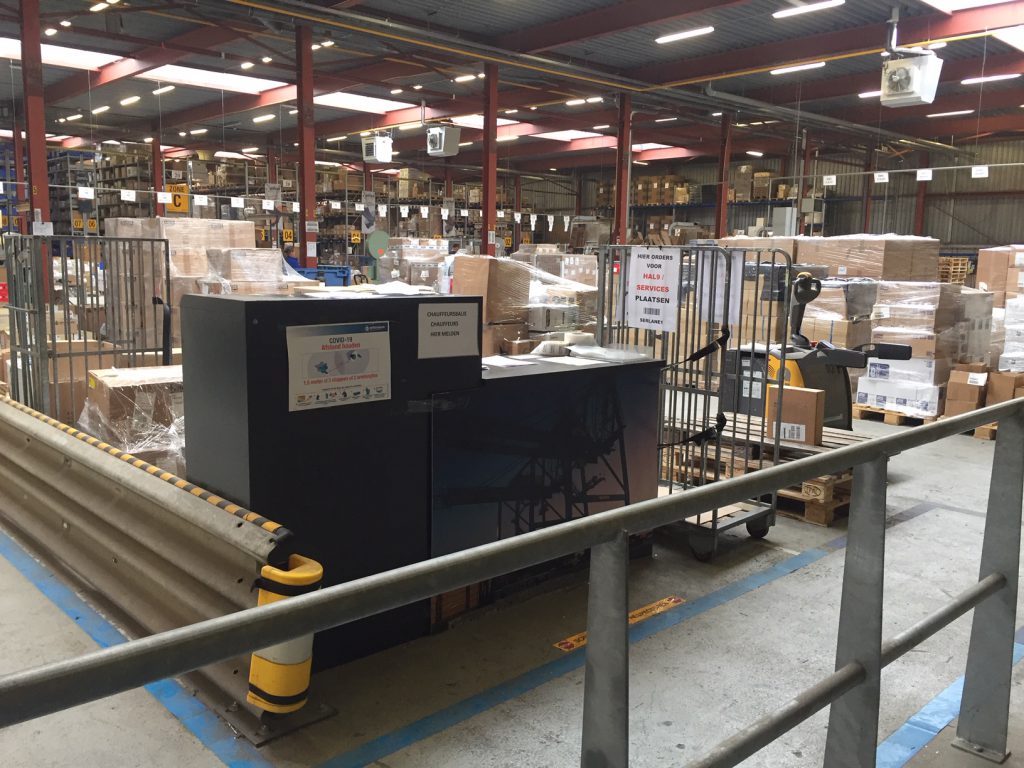 When the countries went into lockdown in mid-March, the world of Intersafe changed overnight. Suddenly, Sales Engineers maintaining gas detection apparatus in France could no longer visit their customers. The IT department had to pull out all the stops to make working from home a possibility.
Buyers began a global search so they could meet the explosively growing demand for corona-related products and a staff member with a partner with chronic lung disease wondered in despair whether or not to come into the office. The answer to that last question was a resounding 'No!'. "From day one we have pursued two priorities. Number one, the health of our employees.
Number two, providing information about business continuity, i.e. what was happening operationally. Management is the team that had to steer Intersafe through this storm. An unprecedented storm. This situation was unknown territory for everyone."
Guidance
That being the case, it's nice to have some guidance. For example, from parent company Lyreco (9,000 employees in 42 countries), which provided a number of practical frameworks for 'corona-proofing' workplaces. It also developed a toolkit to help managers; in these uncertain times they, too, are often looking for information, for example on how to manage their team even better via video-conferencing. The team also received a lot of support from the business culture developed over many years. The core values are responsibility, transparency and integrity. Based on those pillars, they were able to react quickly to the crisis situation."
From the day that everyone was expected to work at home, the managers were the first people designated to stay in contact with the employees. There was open communication in the team meetings – via video – about how business was going, good and bad. But there was definitely room for social interaction, too: 'Has your runaway cat come back yet?'
Support
That open communication is appreciated and it has provided a lot of support among the staff for the decisions that the management team has had to take at a fast pace. Certainly in the early days of lockdown there was a lot of anxiety and uncertainty among staff, and that led to a deluge of questions. The crisis team was in daily consultation. Every question and suggestion that came in, however crazy, was taken extremely seriously and answered as quickly as possible. This was so that unclear issues were not left to smoulder. There was a lot of internal communication, including online sessions with more than 100 participants at a time. Well-informed employees are motivated employees. When Intersafe started to ease the measures slightly, they had no difficulty at all finding employees who were happy to help out on a voluntary basis.
Broad involvement
The most important lesson that has been learned over the past few months is that you must engage those involved as much as possible, ask yourself a lot of questions and have a helpful attitude. We shouldn't be arrogant and think 'we know'. Instead, Intersafe involved the safety officers, facility managers and resource managers in the three countries as much as possible. It also the catering staff, because they know better than anyone what does and doesn't work when it comes to handling the routing [in the works café] to keep to the 1.5-metre standard. Contact was also sought with several HR directors in other companies. The contribution from all those parties only served to enrich and improve the plan. You end up with measures that work and that stand the test of time in daily practice.
As a PPE specialist Intersafe has the necessary safety specialists in-house. But their expertise is mainly centred around industry. Hence the company has the complete package of corona measures within its own branches and offices audited by external parties. This is to guarantee the processes and to learn from them. "We're not dummies, so we can implement a lot of corona measures effectively. But you can't bite off more than you can chew, so we let specialists from outside have a look at what we're doing. That's why you work with a plan that you can continually audit and enrich."
Perseverance
After more than three months of lockdown 'The New Normal' has now become workable at Intersafe. The sites have been adapted, the move to allow no more than 50% of employees back to the office has been initiated, and the management team's daily crisis talks are becoming shorter and shorter. They have now reached a new phase, which will be about persevering, tenacity and fine-tuning. And especially about keeping people motivated.
More information?
Customer Service
The Netherlands: T +31 (0)78 618 14 00 of E info@intersafe.eu
Belgium: T +32 (0)15 423 320 of E info-b@intersafe.eu
Or contact us via the contact form