Development Intersafe permanent fall prevention systems thanks to acquisition by Eurosafe Solutions
With effect from 22 May 2013, Eurosafe Solutions has taken over the Intersafe installation, inspection and maintenance of permanent fall protection systems department in order to develop them further and hence expand its range of services even further.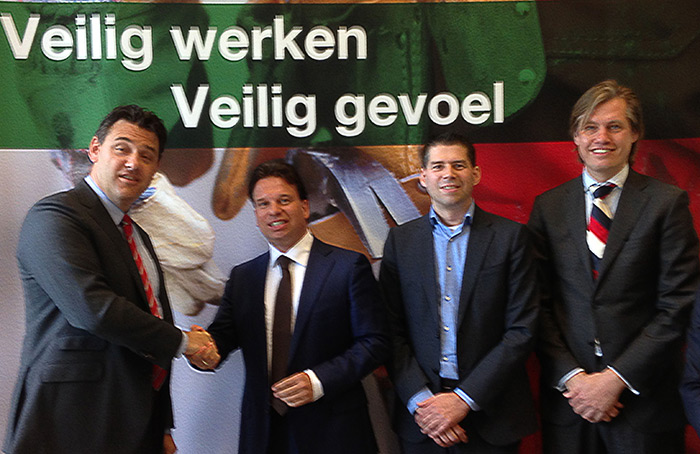 "Intersafe's strategic focus is on sales, service and maintenance of high-quality personal protection equipment. In the field of 'Working safely at height', this lies in the further growth of PPE, sales training and maintenance," says Yves Pétin, CEO of Intersafe. "This development will ensure that Intersafe can extend its expertise in fall prevention equipment and take a weight off its customers' minds."
Eurosafe Solutions director Mark van Buiten says, "By acquiring the Intersafe permanent fall prevention department, we can offer our customers an even broader range of complete solutions. The knowledge of the two companies together is a great bonus for customers. The good co-operation is generating a lot of energy and new ideas and we want our customers to experience this. As a result of the co-operation we are also seeing an expansion with new suppliers, new brands and products. This means customers can come to us for an even wider range of safety."
The acquisition is a major step in Eurosafe Solutions' growth and expansion plans. Following the acquisition, Eurosafe Solutions is the preferred supplier for permanent fall protection and access at height for Intersafe's customers. Intersafe and Eurosafe Solutions are a great fit: Eurosafe Solution ensures a safe workplace and environment by providing the equipment. Intersafe has knowledge and expertise in personal protection equipment.
About Intersafe
Intersafe is a pioneering European supplier of a wide range of products and services for safety in the workplace, and is based in the Netherlands, Belgium and France. Intersafe combines an extensive range of products and services with customer-focused service and knowledge of safety and safety products. Interface can offer a uniform solution in several countries, in line with (international) customers' business and distribution strategies. Intersafe contributes to innovative solutions which raise the standard of the health, safety and welfare of your employees. This makes Intersafe the ideal port of call for safe working, for every workplace: both industrial or office-based.
For more information: www.intersafe.eu
About Eurosafe Solutions
Eurosafe Solutions is an international company that safeguards people who have to work at height where there is a risk of falling. Eurosafe Solutions also carries out various work using an "abseiling" method. Eurosafe Solutions' professionals work day in day out with a very wide range of safety issues in order to create a safe workplace.
Eurosafe Solutions supplies every part of the safety chain to create a safe workplace even at height, by advising, supplying, installing and inspecting safety applications such as fall protection, ensuring safe access to the workplace at height, enabling fast rescue and evacuation and supplying personal protection equipment and training in their correct use. In order to guarantee safety, Eurosafe Solutions' service & maintenance department works day in and day out to maintain and inspect all safety equipment. Eurosafe Solutions employs over 200 people and currently has branches in the Netherlands, Belgium, Germany and the UK.
For more information: www.eurosafesolutions.com