Bringing innovation to our customers
To present innovation to our customers, not only figuratively but also literally speaking, the Executive Team of Intersafe visited DHL Parcel, their logistic partner in the Benelux. DHL is a strategic partner of Intersafe for its supply chain.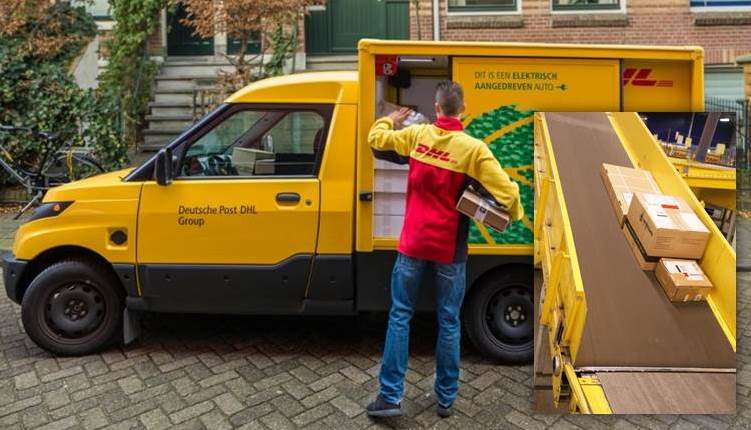 Supply chain trends
Wouter van Benten, CEO DHL Parcel Benelux, hosted the visit and presented the main trends in the market relevant to Intersafe. Intelligent manufacturing is one of the key trends, which can be divided into two major areas. First is proximity to the market via intelligent manufacturing, meaning shifting production series from Asia to smaller and flexible facilities in Eastern Europe and Turkey. This will result, as a second area of this trend, in a higher number of shipments with lesser volume due to this intelligent manufacturing via these so called 'smart factories'. Another trend is the necessity of adapting BtB-BtC convergence, which involves a model shift within wholesalers and distributors channel from retail towards final customers (e.g. ZZP market). Van Benten explained that this requires a 100% focus on e-commerce (key is customer interaction, traceability of product and delivery capabilities). Another trend is the continuous reduction of CO2 emission in supply chains. DHL Parcel and Intersafe work closely together to monitor CO2- efficiency and involve greener solutions. Each new truck is always a model that meets the highest European standards in operation at that time. Electric vehicles have also made their appearance. DHL Parcel has 60 e-Carts running in the Netherlands, electric delivery vans from DHL's own factory in Aachen.
Partnership
Intersafe started a partnership with DHL, because DHL gives Intersafe added value with a total cost of ownership solution. We started with parcel deliveries to businesses and soon extended the range to home deliveries especially for our "My-personalized PPE-package" deliveries. The possibility to deliver in the night in co-operation with DHL Parcel is currently under investigation. The strategic cooperation with DHL Parcel was confirmed during the first round table event held early 2015. A group of strategic product- and service-suppliers of Intersafe gathered at a DHL location to discuss improvements in the supply chain by working closely together.
About Intersafe
Intersafe is a leading European provider of products and services for safety in the workplace, based in the Netherlands, France and Belgium. Intersafe is an important actor on the market. In addition to an approach which places customer expectations at the centre, the company links a large range of products and services to specific knowledge about individual safety and protection. Intersafe stands for compliant products and services. This allows the company to offer a uniform solution across several countries which is adapted to the needs and expectations of the client. With its clients Intersafe seeks unique and innovative solutions which improve working conditions, security and well-being of employees. For more information: www.intersafe.eu
About DHL – The logistics company for the world
DHL is the leading global brand in the logistics industry. DHL's family of divisions offer an unrivalled portfolio of logistics services ranging from national and international parcel delivery, international express, road, air and ocean transport to industrial supply chain management. With more than 325,000 employees in over 220 countries and territories worldwide, they connect people and businesses securely and reliably, enabling global trade flows. With specialized solutions for growth markets and industries including e-Commerce, technology, life science and healthcare, energy, automotive and retail, a proven commitment to corporate responsibility and an unrivalled presence in developing markets, DHL is decisively positioned as "The logistics company for the world". DHL is part of Deutsche Post DHL Group. The Group generated revenues of more than 56 billion euros in 2014.
Contact
If you have any questions left, please don't hesitate to contact us.