Atlas invites Intersafe in a discussion about safety and welfare
Atlas – the Shoe company was the first who responded at the Intersafe offer and therefore invited Intersafe for a discussion about the safety and welfare of employees at work. Thursday, 15th May 2014, the Executive Team of Intersafe was warmly welcomed in the headquarter of Atlas in Dortmund, Germany.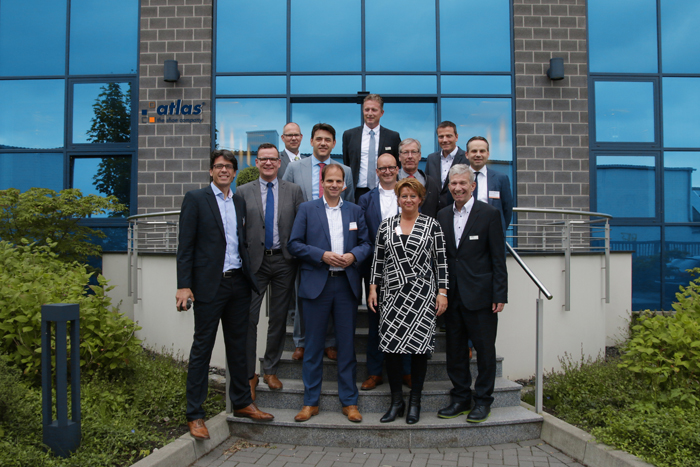 Atlas in Germany & Brazil
Since 100 years Atlas is a manufacturer of high quality safety shoes. In Dortmund, Atlas shows its production department and logistics of its safety shoes. The upper of the shoe is made of high quality leather and due to this, Atlas started its own factory of the uppers of the shoes, in Brazil about 8 years ago. The federal state "Rio Grande do Sul", in the south of Brasil near the Argentinean border, is the living area of the Black and Brown Angus (breed of cattle). With appr. 1.400 employees, the factory in Brazil enables Atlas to deliver almost 95% of the orders within one working day. In the production in Dortmund the outsole is connected with the upper and makes it possible to create with appr. 250 differtent uppers up to 600 different types of safety shoes.
Atlas is market leader in the sector of safety footwear in Germany and delivers to a large part of Europe high quality timeless designed safety shoes. "This makes it for the customer easy to place a repeat order with the same properties and designs". It is recommendable to replace safety shoes after one year wearing and you don't want to differentiate between your employees, therefore customers can rely on a consistent supply of their best safety shoes", says Werner Schabsky, fourth generation Director and Owner of the Atlas company.
Engagement to customers / Customer commitment
Intersafe is known for its expertise on the market of safety and welfare. And for its dedicated employees. Such are important reasons for Atlas to cooperate with Intersafe on the European market of safety shoes. Because both companies are continuously looking for high quality development and innovation, during the visit in Dortmund new ideas came up. For example, helping customers by proactively informing them about the (possible) necessary replacement of their employees' safety shoes to help to prevent that employees encounter unsafe or unwell situations when wearing worn out safety shoes. "With a unique code on the patch inside the shoe, Intersafe would be able to promote this process," according to Yves Pétin, CEO of Intersafe.
In Brazil employers are not only obliged to make sure that employees wear personal protective equipment (ppe), but they also have to register for every employee in every occasion the provided ppe.
Do you want to discuss safety at work with the Intersafe Executive Team?
By the strong cooperation Intersafe and Atlas are able to work efficiently and innovatively. They share their experiences and learn from each other. This way of working will keep on improving safety and welfare at work and the safety culture in both companies.
Are you also interested in discussing your safety and welfare at work of your employees with Intersafe? Please invite the Intersafe Executive Team to your site by contacting us.