A summary of the most important news in the revised EN388:2016
Changes have been made in EN388:2016. However much remains the same.
Read more and download here the Ejendals brochure for free.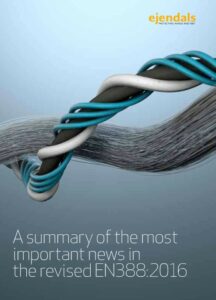 Testen van weerstand tegen schuren, scheuren en prikken wordt uitgevoerd als voorheen, maar met enkele verduidelijkingen met betrekking tot de testprocedure en testmaterialen. Het is nu bijvoorbeeld verplicht een gespecificeerd schuurpapier te gebruiken tijdens de schuurtest. Handschoenen die eerder zijn getest met minder ruw schuurpapier, kunnen een lager schuurslijtage resultaat zien bij testen volgens EN 388:2016.
~CTA_1~