VACANCY | Procurement Employee France
Enthusiastic and native French speaker who is available for a 5 months period.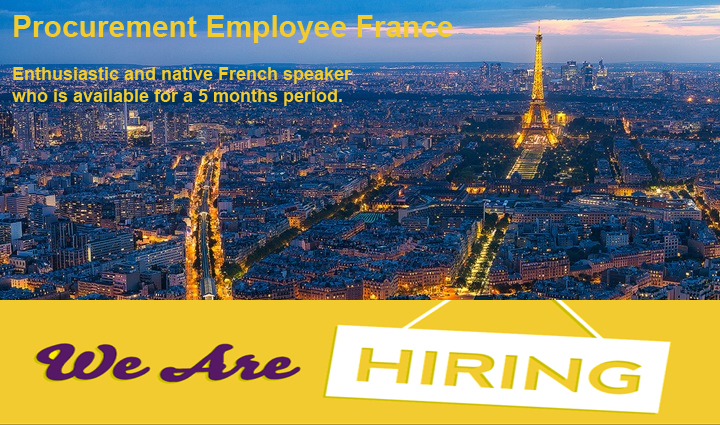 The Department
The Procurement department consists of 7 employees (including the vacant position). Due to maternity leave of one of the employees, we are looking for a new colleague for a period of 5 months, starting January 2016.
What are you going to do?
You will ensure optimal coherence between supply and demand between suppliers and the (internal) customers. This is accomplished by creating an optimal and stable procurement process and related administrative tasks. You place purchase orders to suppliers according to established procedures and check order confirmations and anticipates pro active on divergent dates. Additionally you run several checks in orderfulfillment, delivery reliability and the quality of the shipment. You are responsible for monitoring and intervening in anomalies in the procurement process. In addition, you offer recommendations for improvements and optimization of processes and (partly) you implement them.
Profile
A secondary vocational education, preferably supplemented with nevi;
3-5 years experience in purchasing or recent graduated Bachelor or Master;
(Near) native French is a must, in addition, good command of English in spoken and written, Dutch is a plus;
Knowledge of the Office software (especially Excel) and modern automation;
Independent and good communication skills.
What do we offer?
A temporary job for 5 months;
Nice job for beginners who are looking for a first job;
Challenging and independent position;
Excellent benefits.
Interested?
Are you looking for a temporary job for 5 months? Write or e-mail within 14 days a letter and resume to Intersafe, Attn Desirée van Kalken (HR Officer), PO Box 86, 3300 AB Dordrecht, email: recruitment@intersafe.eu