How the Employee Safety Manager (ESM) takes your worries out of your hands
How the Employee Safety Manager (ESM) takes your worries out of your hands
Personal Protective Equipment (PPE) is often unavoidable in various sectors, despite the application of the occupational hygiene strategy. After conducting a thorough Risk Inventory & Evaluation (RI&E) in the vast majority of companies in construction, (petro-) chemicals, manufacturing, etc. the risks cannot be completely eliminated without the use of PPE.
You therefore offer your employees the most suitable PPE on the basis of the RI&E, but it doesn't stop there.
Offering PPE to your employees is one thing, but the timely maintenance and replacement of PPE is crucial. The consequences of wearing PPE that no longer complies with the standards, is worn out or no longer fits, can damage the safety of your employees and make you liable for not providing compliant PPE.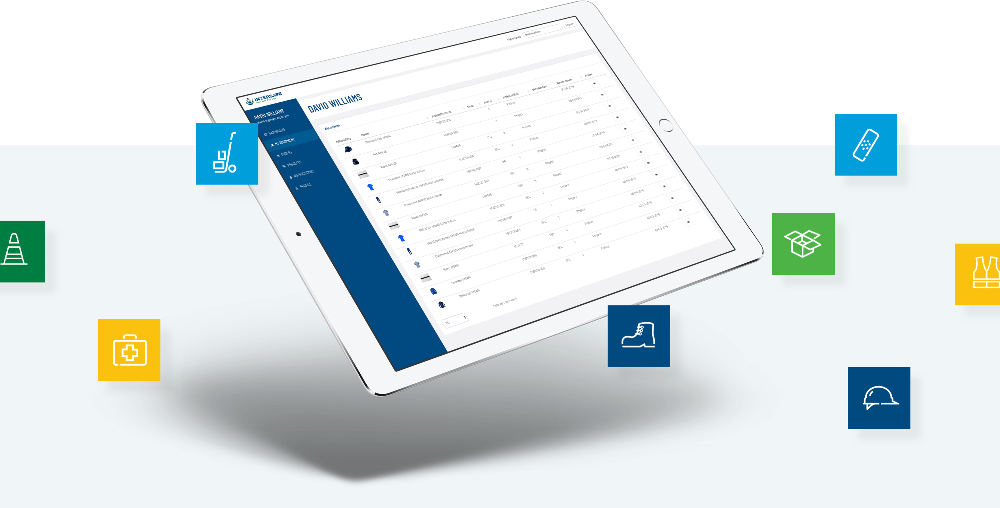 Intersafe has the ideal solution
Intersafe is happy to think along with you about this. As said, providing your employees with PPE is a good start, but maintaining and timely replacing PPE is very crucial to keep your employees safe at work.
To ensure safety and prevent accidents, Intersafe has developed its Employee Safety Manager (ESM). The Employee Safety Manager is an online registration and ordering system that registers on an individual level which PPE is purchased, when it needs to be replaced and the budget the individual employee has to spend.
Benefits of the Employee Safety Manager
Below are some of the benefits of the Employee Safety Manager.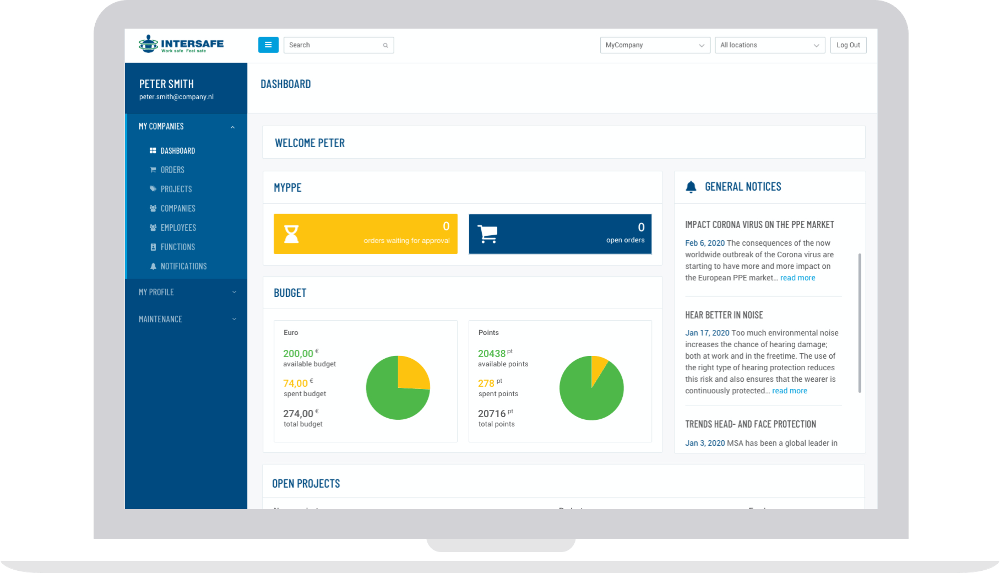 Increase individual safety of your employees, prevent accidents and reduce absenteeism.
By using the Employee Safety Manager, you ensure that your employees can always work safely wherever they are because they always have the right materials at their disposal. This results in fewer accidents on the work floor and less absenteeism.
All the PPE that your employees use comply with the applicable laws and regulations and with your personal requirements.
By determining in advance which PPE can be purchased via the ordering system, you ensure that your employees always have PPE at their disposal that meets the laws and regulations and your requirements as an employer. This includes clothing in the correct corporate colors and with the correct logo.
Cost savings
The Employee Safety Manager ensures that you save costs. No unnecessary PPE is ordered for and/or by employees and this ends up on the shelf. You can also limit the number of package moments, which for example limits additional costs such as order and package costs. In addition, you save time and money because you can use one efficient ordering, registration and issuing system.
Insight
By switching to the Employee Safety Manager, you gain greater insight into the purchase and replacement of the required PPE at an individual level
In addition, you have the advantage of being able to use an easy and digital ordering and delivery process with management reports. This also provides more insight.
With the Employee Safety Manager you can also easily budget and have a forecasting capability. You know the number of employees and the allocated budget.
Furthermore, you also get insight in deviating cases. So you can see at a glance which employees and/or departments spend above average or less on safety.

Save
Are you curious how much you can save on your PPE expenses? Click on the button below to go to the PPE savings calculator. Fill in the required information and the calculator will show you immediately how much you could save on your PPE expenses.