Custom-made Otoplastics, custom-made hearing protection
Harmful noise is one of the greatest dangers to ear health in the workplace. In the new Personal Protective Equipment Regulation 2016/425, noise harmful to the hearing organ is officially recognized as an irreversible health hazard. As an employer, in accordance with Article 6.8 of the Working Conditions Decree and EU Directive 2003/10/EC on the minimum health and safety requirements regarding the exposure of workers to the risks arising from noise, you are obliged to provide your employees with hearing protection when the daily dose on average is equal to or greater than 80 dB(A). You offer your staff protection against hearing damage through, for example, the use of otoplastics, custom-made hearing protection.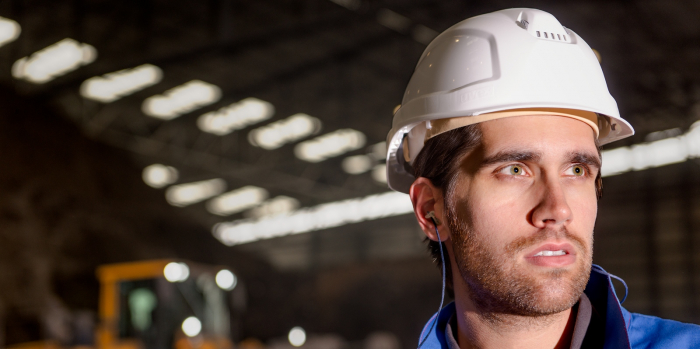 Otoplastics
Using the right otoplastics reduces the risk of hearing damage. By actually wearing the hearing protection without interruption, the wearer's ears are continuously protected against harmful noise. It is therefore important that otoplastics are comfortable.
Optimal attenuation, adjusted to the noise level, ensures good speech intelligibility and contributes to safety in the workplace. You can find more information about this below.
Custom made hearing protection
Otoplastics are ear plugs that are custom-made for the employee. Because they are custom-made, the earplugs fit perfectly in the ears.
But that's not all. because they are custom-made, they provide the right protection for your hearing. In the otoplastics that are made especially for your ears is a filter processed. This filter ensures that the sound that needs to be filtered is actually filtered. This benefits both your hearing and your work enjoyment.
The choice of which filter to use depends on the sound level. The higher the sound level against which the hearing must be protected, the higher the filter. Therefore, different filters have been developed. This way there is always a filter that gives the right protection for your situation.
Good to know: Every ear canal changes, regardless of the age of the wearer. Therefore, it is necessary to have new otoplastics measured for your ears every 4 years.
Obligations in the workplace regarding hearing protection
As you have read earlier in this article, at certain noise levels there are obligations for both employers and employees. Below is an overview of the noise levels and corresponding obligations:
Noise > 80 dB: Employer must provide hearing protection + training and information for staff.
Noise > 85 dB: Wearing hearing protection is mandatory and employer is obliged to provide it.
Noise > 87 dB: The limit value that must not be exceeded for employees.
In addition to the fact that it is mandatory to wear hearing protection above a certain noise level, it is also very important to know that, as mentioned earlier, your ear canal changes. Generally, after 4 years, your hearing is so different that otoplastics no longer fully fit the ear canal.
This can cause a leak to occur resulting in ear damage. We therefore advise to have new otoplastics measured every 4 years. Do you have a hearing loss? Then unfortunately there is no way back.
What kind of otoplastics are there
There are several types of custom-made earplugs (otoplastics). For example, there are closed earplugs that are suitable for swimming and sleeping, and earplugs that you just read about. Earplugs with a filter.
But that's not the only difference between custom-made earplugs. In fact, there are also differences in the type of material.
Hard otoplastics
Hard earplugs are characterized by the fact that they are easy to keep clean, go easy on the ear and are comfortable to wear (even in warm conditions). We recommend this type of earplug especially for people working in food or oil products.
Soft otoplastics
Soft earplugs also have their own characteristics. Soft earplugs are made of silicone and are available with more filters that range from mild to extreme. This type of earplug is worn primarily because it is perceived as comfortable and to minimize the so-called occlusion effect.
The occlusion effect is the effect whereby your own voice starts to sound dull. You can probably imagine that this can be annoying if you need to have a lot of contact with colleagues and/or customers.
Maintenance of your custom-made earplugs
We are happy to ensure that you have custom-made earplugs that will protect you from hearing damage for years to come. However, this depends not only on the custom-made hearing protection, but also on the maintenance of the product. You can extend the life of otoplastics considerably by carrying out proper maintenance. How do you do this? You can easily clean them yourself by removing the earwax from the canal. This ensures that the earplugs continue to provide optimum protection. In addition, we also have hygiene sets at Intersafe that you can use to disinfect your earplugs. This can prevent ear infections and is therefore very important!
Would you like to know more about custom-made earplugs or the hygiene sets? Then click on "contact" at the top of this page menu.
Market leader in otoplastics
Hearing protection is as unique as a fingerprint. Intersafe has been supplying Elacin otoplastics for more than 25 years. These hearing protectors are individually custom made, which makes the hearing protection comfortable. Elacin is a pioneer in the field of hearing protection and market leader when it comes to custom-made hearing protection.
Fitting and delivery
As an employer, you have two options for fitting custom-made otoplastics.
On-site fitting of otoplastics
One of Elacin's Sales Engineers will visit your premises to make an impression of your employee's ear canal.
Fitting at a service point
Your employee will visit one of our service points – within our broad network of hearing specialists – in the Netherlands and Belgium. In this case, a personal fitting order is created by Intersafe, which each employee hands to the hearing care professional for the fitting of otoplastics. The hearing care specialist makes an impression of the employee's ear canal, as do the Elacin sales engineers.
Once the impressions of the ear canals have been made, they are made by Elacin in. Then the otoplastics are delivered by the Elacin Sales Engineer to the desired location as agreed.
More information?
Please contact us for more information. You can do so right here